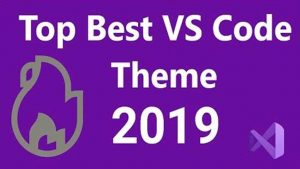 In this List mainly i will provide you the most Top ? Hottest VS Code Theme which are used eagerly in 2023.These  theme really awesome looking themes which are usually giving the dope look for your code . So don't miss this article where I put some of the best and top best theme of visual code used in 2020 this post is highly . 
Dracula Official 
This is the first theme from the list of  Top ? Hottest VS Code theme .
First theme which i strongly  recommending you is Dracula this theme really cool and has an awsome interface you really like it . Most of the developer used this theme. and this theme one of the best theme out there and they support mainy editor and terminals 
Link : Homepage: https://draculatheme.com/

One Dark Pro
This is the another theme it also really a best theme for the vs code theme mostly used in 2019 and if you jump from atom . Atom's iconic one dark theme for visual studio code.and theme has a material vibe which you really like during making your interface quite cool with this theme so go a head and download it and check it out .

Link: Homepage: https://marketplace.visualstudio.com/items?itemName=zhuangtongfa.Material-theme


Ayu 
Those who like Simple Theme your editor this would be the best theme for you . What's New In this Theme . mainly This theme has a quite less combination of colour mode which is really giving a Simple Look for your editor . A simple theme with bright colors and comes in three versions — dark, light, and mirage for all day long comfortable work.



 This City Lights Color Theme is a part of City Lights; a suite of beautiful matte dark themed goodies for Atom & Visual Studio Code. For more information, 

Link: http://citylights.xyz.


---
People are also reading: