Best Social Media tools to Help You Create Epic Social Media Content.
Small businesses are constantly on the lookout for faster, easier and more cost-efficient ways to create new content. By the look of high quality content it is easy to sniff out the expensive gadgets.However, those with deep pockets can use their mobile phone cameras and apps as a tool.
These incredible apps are now amazingly effective and powerful to help you capture and create social media content from scratch. Smartphones are now like all-in-one production to create great quality content and it requires great Social media tools to Help You Create Epic Social Media Content. But how do you decide which tools are the best ones for you?
In this post, we'll share best social media Tools that'll help you create incredible social media content using just your smartphone.
01.
These apps will be helpful for any social media take it :
Instagram stories, reels or posts .
Pinterest story pins or pins.
YouTube video editing and for shots content
Snapchat stories editing.
Write Blog and make templates for it.
YouTube videos and Thumbnail ideas.
Ready to jump in?
Tools for making instagram/ YouTube/ Pinterest buisness content.
Over one Billion people use instagram app, it takes years to get followers in millions. You don't build a business you build people and then people build the buisness. Firstly, we need to target audience towards our page and for that we need good content.
As, you can understand how it can be really hard to set yourself apart from the herd. Instagram growth is no joke. It is all about creating beautiful content of value, being consistent in what you publish and when, and encouraging conversations and engagement with your followers. To do that, you need to post some attractive content!
On Pinterest we strive for viewers. To compete with millions seem like an uphill battle. Using these tools , you can make your content visibly aesthetic. On Pinterest your content quality must be enough to help you gain monthly viewers. I personally have seen spike in viewers .
01.
Best Social Media Tools to Help You Create Epic Social Media Content :
Here we have some amazing apps to add in our bucket list.
It is a Google product, so you already know it's going to be good. This powerful photo editing tool is one of the best options for both Android and iOS. Moreover, this is an extremely powerful photo editing app that is free for download in the app store.
It has amazing features like real-time sliders, which makes the app super easy to use for basic editing i.e exposure, brightness, contrast etc. It's biggest strength has to be its selective adjustment feature which lets you apply different edits to individual parts of the photo, enabling you to edit the photo to perfection.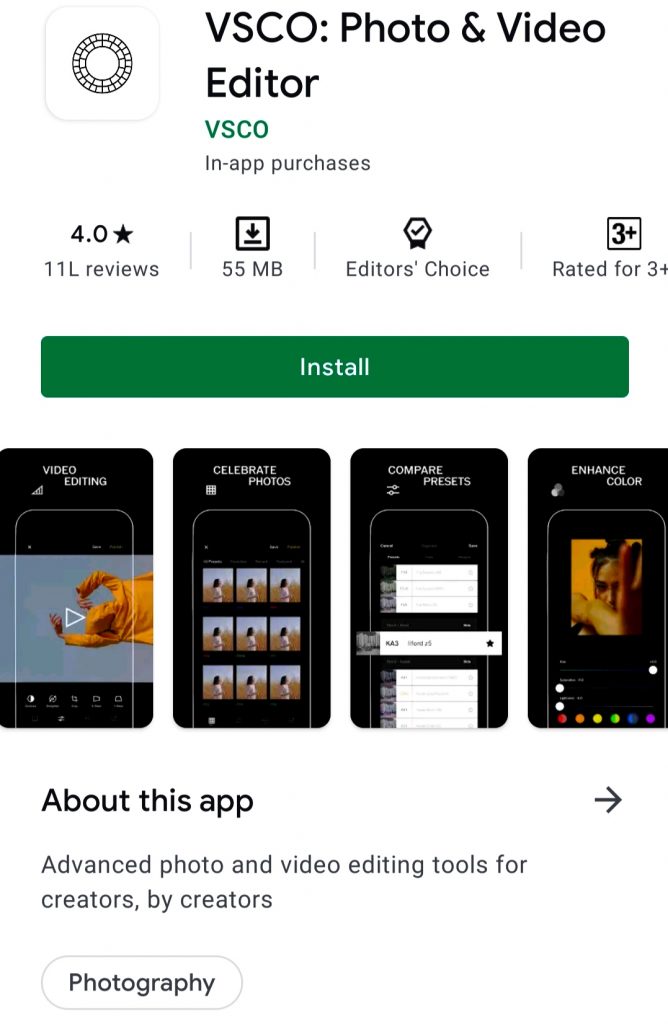 It is a simple photo editing app that Instagrammers love. It is one of the most popular photo editing apps out there, and with its clean and user-friendly interface, it's not difficult to see why. The various adjustment tools of the app are super easy to use and help to take your photos to the next level. It has amazing, innovative presets/filters that can transform your pictures instantly. I personally love the T1 filter which adds a faded effect to photos.
Canva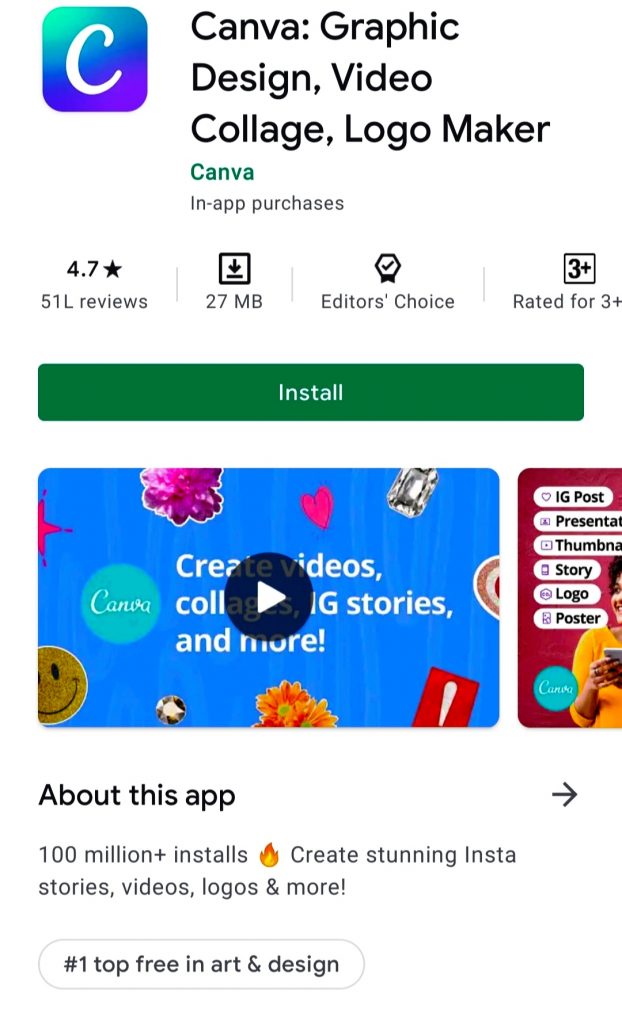 Canva really offers a variety of content types. From pre-sized social media image and header templates to marketing materials, documents, presentations, invitations and ads, you'll find almost everything you need.You can add your design which include text, icons, photos or illustrations. These need to be combined in a way that is pleasingly aesthetic and visually appealing.
Adobe Lightroom CC – FREE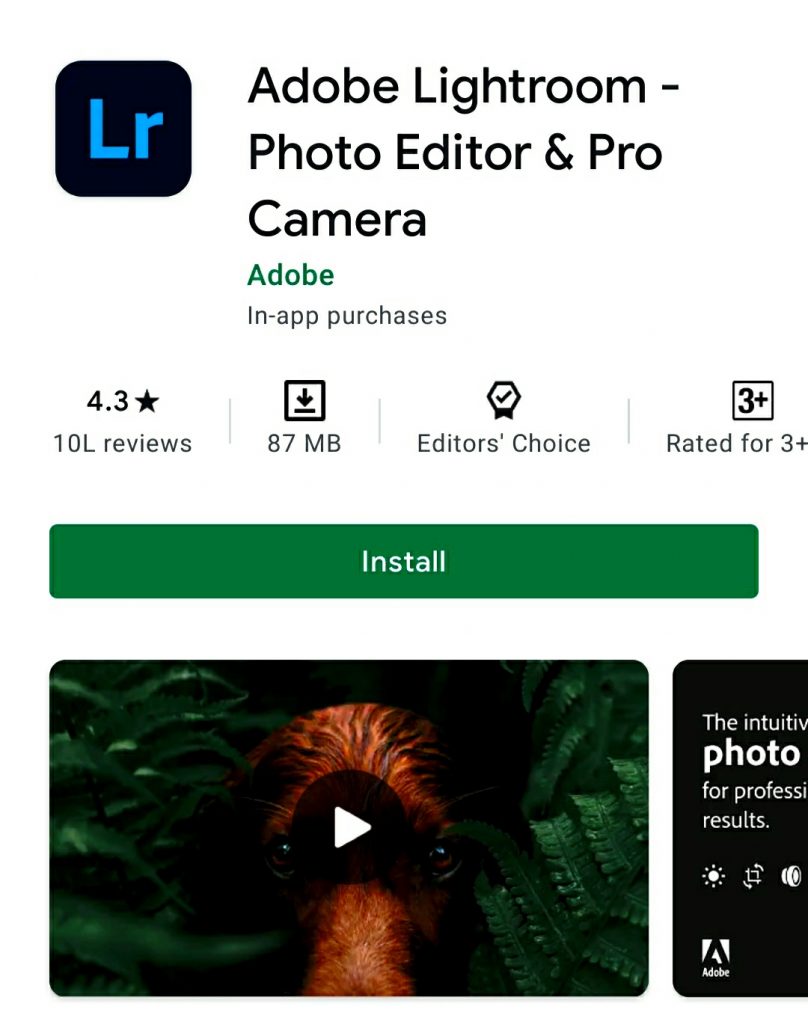 Adobe has always set the photo editing bar high, and they didn't fail to do it again when they launched the mobile version of Lightroom.As more and more major influencers and photographers launch and sell Lightroom presets (like a filter, but you can adjust various elements of the settings rather than just toggling the intensity of the filter as a whole), regular Instagram users can now achieve the same aesthetic as their favorite accounts on their own feed with this photo editing app.
Color Story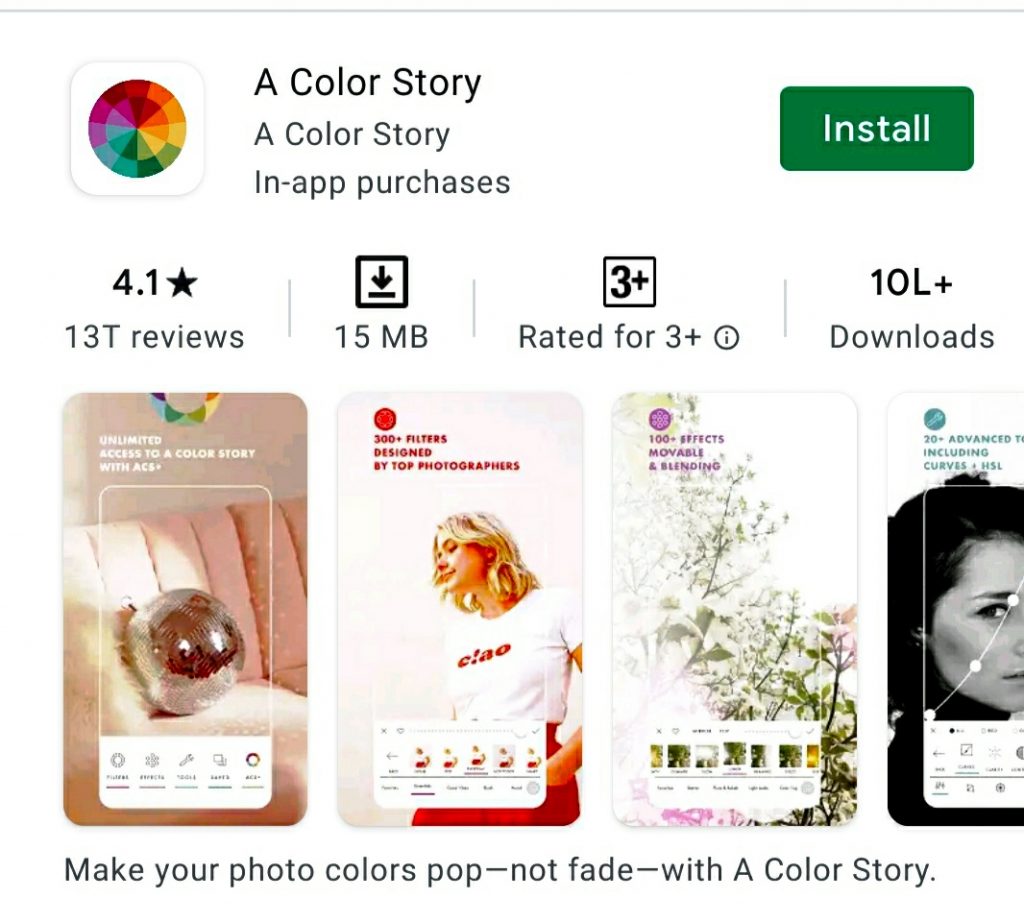 Color Story has the greatest library of them all, with 300+ filters, 100+ effects and 20+ tools! .Not only can you choose from the massive amount of filters, but also make your regular adjustments such as curves, clarity, contrast, brightness and more.allowing you to create an eye-catching aesthetic.
Squareready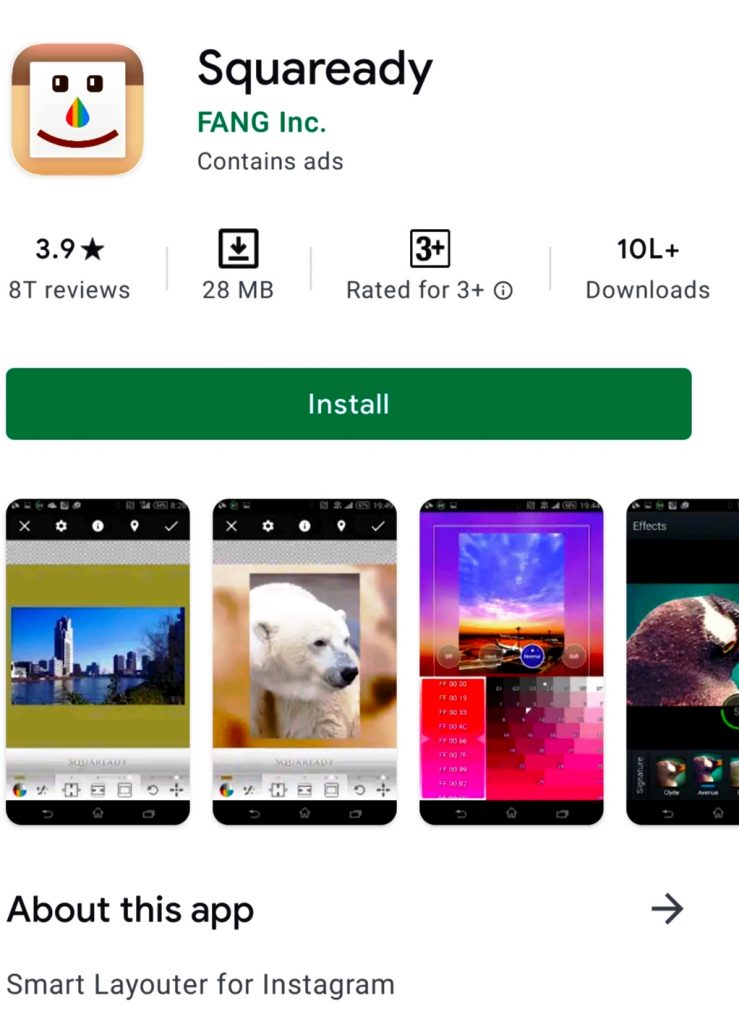 Instagram uses an aspect ratio of 1:1 for all its photos. This can be difficult if cropping your photo into a square is not an option . It might cause problem if we want to keep our photo horizontal or vertical. Squareready comes to the rescue, as it provides a fuss-free way of posting entire photos to Instagram without having to crop it.
Afterlight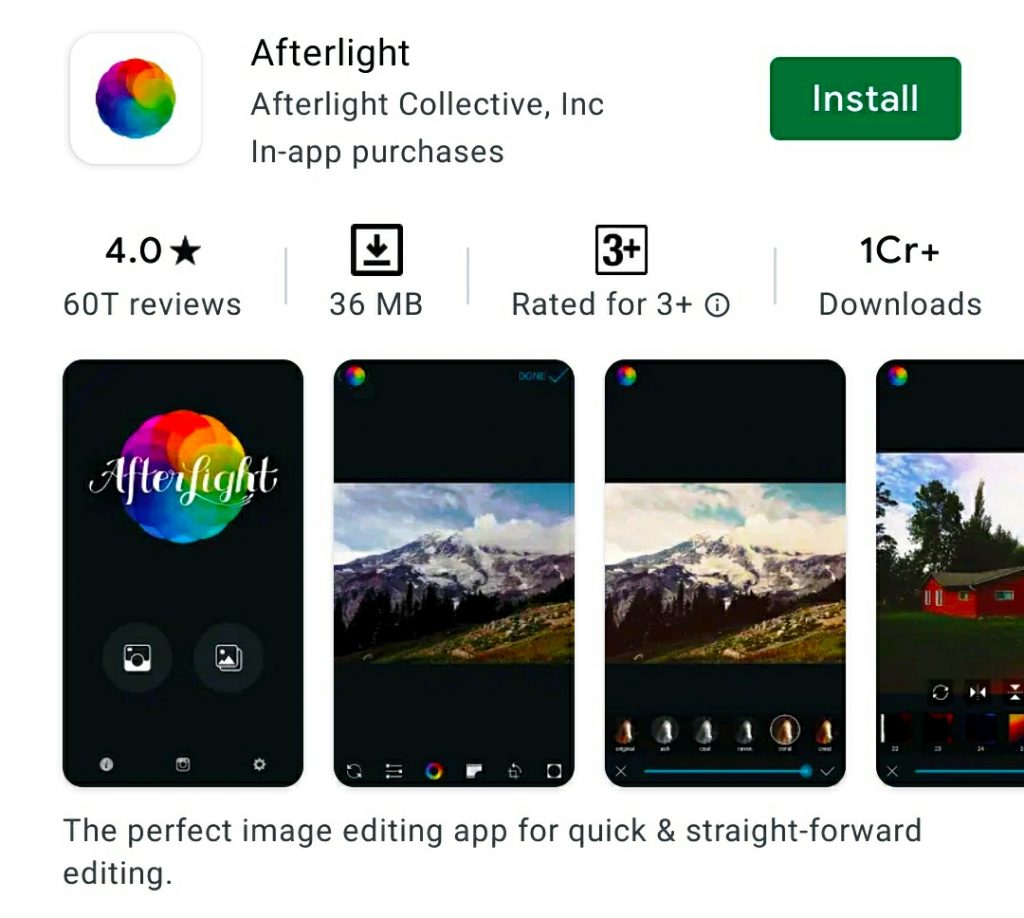 Afterlight is a crowd favorite due to its HUGE library of filters. Because of it's many advanced effects and capabilities with a simple and straight-forward design, powerful adjustment tools . This has to be one of the best photo editing apps for phone photography. I love the cropping presets of the app that let you crop your photos easily into a circle, square, heart etc.
For example, you can separate RGB channels and create glitchy abstract effects, you can superimpose two pictures, and you can add a vintage touch or a film effect using natural textures .
Pablo
Another tool to help you create pin images is Pablo, from Buffer. It's a really easy way to make Pinterest images. They offer free images and fonts to choose from and sizing is a cinch – just click on the Pinterest icon and your image automatically resizes to the correct social media image size.
Pablo is a "Long-exposure photo and video app that creates visual works of art through light painting". What I found most exciting about the App is that you can see your light paintings come to life with the live light painting video feature!pablo-light-painting-gif
Focus Live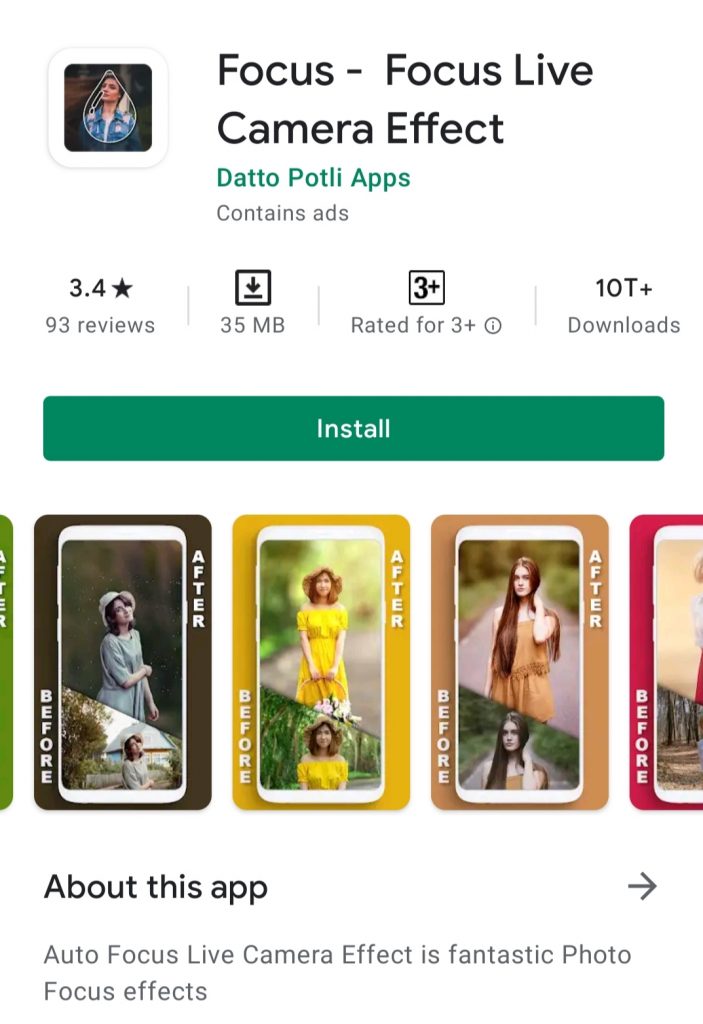 It is a Video version of popular Focos app.The free app adds a bunch of useful video editing tools, too Speed ramping and video reverse capability for creating custom-made videos. .
Focos Live generates a bokeh effect for videos, while the iPhone's Portrait Mode works only with still photos. You can't find the second mobile app prvides the same function.
TouchRetouch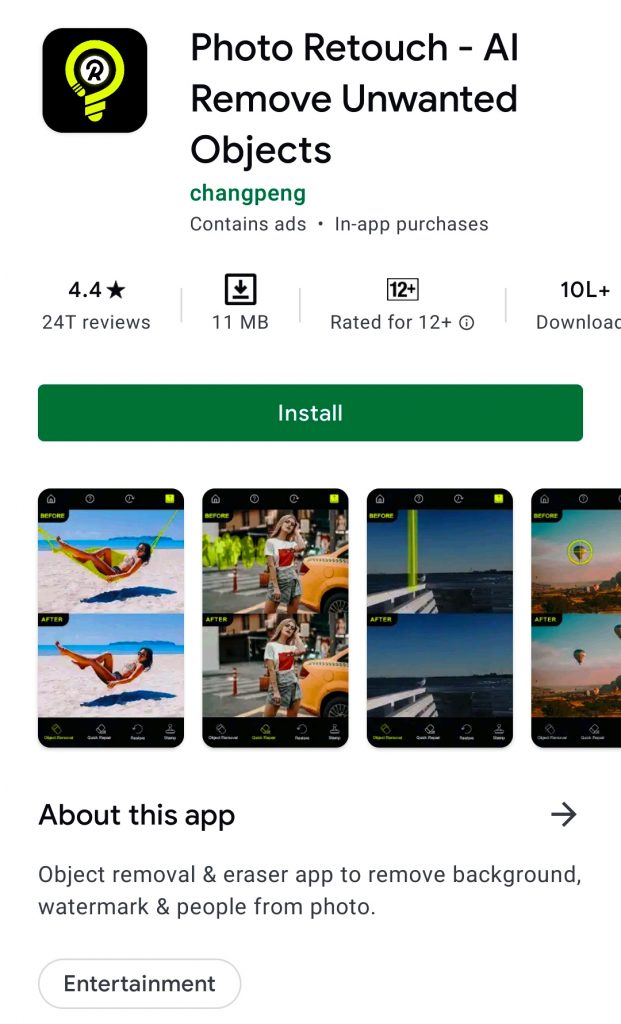 While capturing moments we totally ignore the unwanted objects from our photo. This app allows you to remove it just following some easy steps.
Remove anything which bothers you wires, unwanted people, garbage, vehicles,trashcans, pets etc. Do everything mentioned here and more, in mere seconds without any special equipment.
iMotion – iOS Users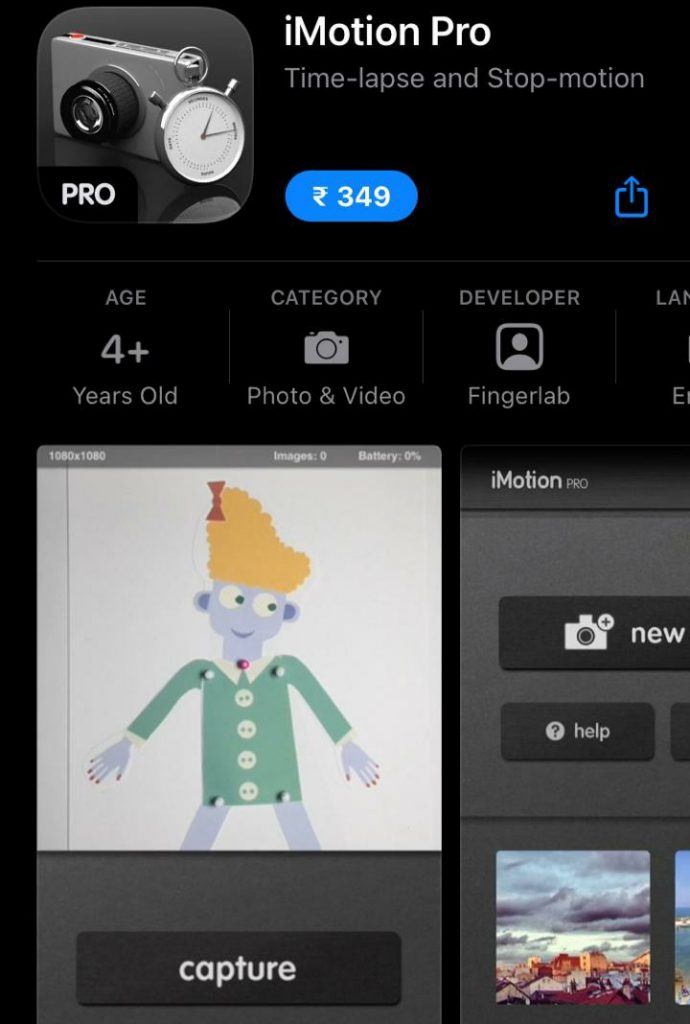 iMotion is an intuitive and powerful time-lapse and stop-motion app for iOS. Take pictures, edit your movie and export 1080p & 720p HD videos to your device or directly to Youtube. This app is most suitable for those content where we make videos. Reels on instagram, Pinterest videos, and most importantly for YouTube videos.
AirBrush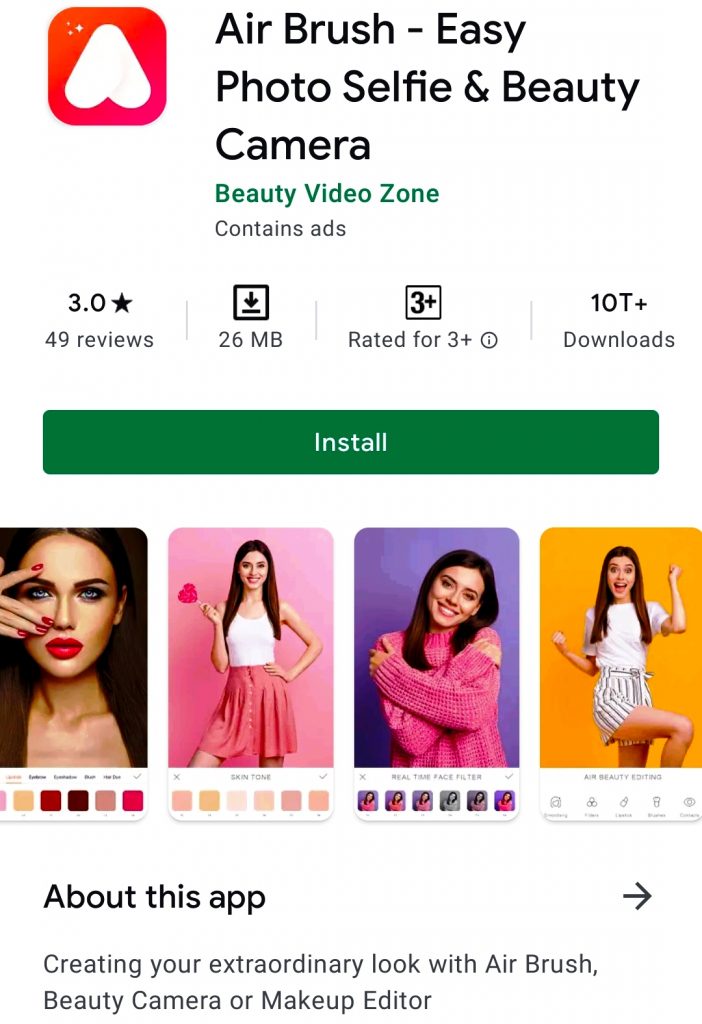 Some are fond of candid pictures while some are obsessed with selfies. This app is specially designed for retouching 'selfies'. Also, it's also just as well suited when retouching any other kind of photo.
AirBrush is a full featured photo editing app capable of handling any major retouches you might need on your selfie in order to look awesome. To sum up Straight off the app interface you'll take photos while applying retouch filters automatically, though you might want to also edit them later on as well, which is also possible.
Lensa
Lensa is the ideal, free photo editing software. Not only, it will you alter your portrait into your ideal aesthetic but also let you explore a creative side of portrait-making. This app has many filters for your selfie obsession, for removing any unnecessary objects, to blur background and top notch editing. This app will not let you down. I have seen this app recommend in so many blogs as a tool to grow your online business.
Perfect 365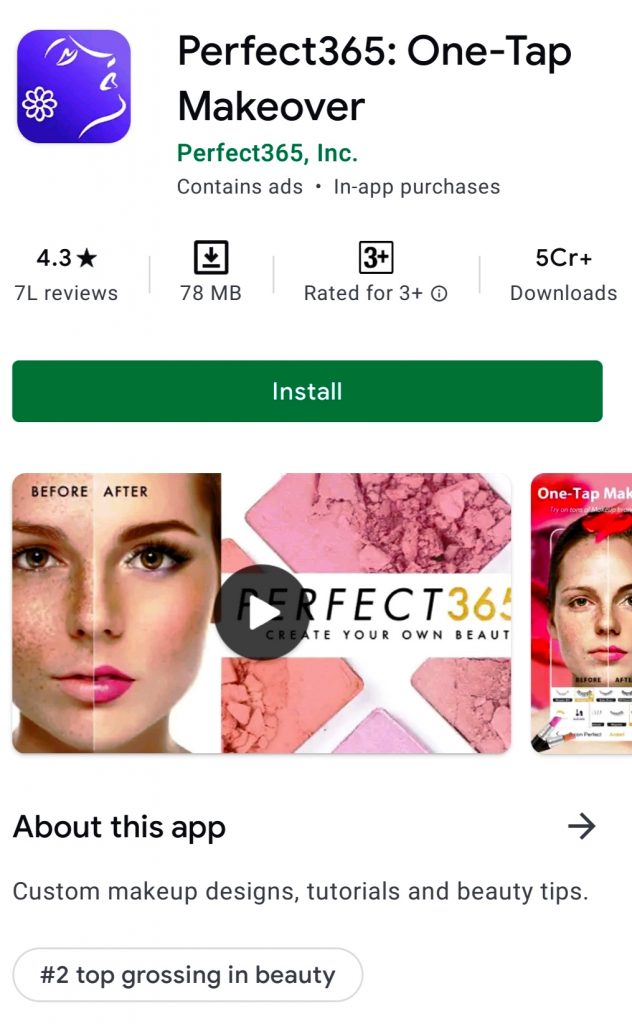 Since, our makeup and camera doesn't hide our puffed under-eye due to sleep deprivation. Now, here perfect 365, comes to rescue.This is the best FREE virtual makeup app, period. It's like having a glam squad in your pocket. Moreover, it is basically a photo makeup refinement application. It lets you enhance facial images, touch-up, and make-up.
One of the best makeup tools on the Appstore and it comes with 20 powerful beauty tools for eyes, cheeks, skin and lips.
PicsArt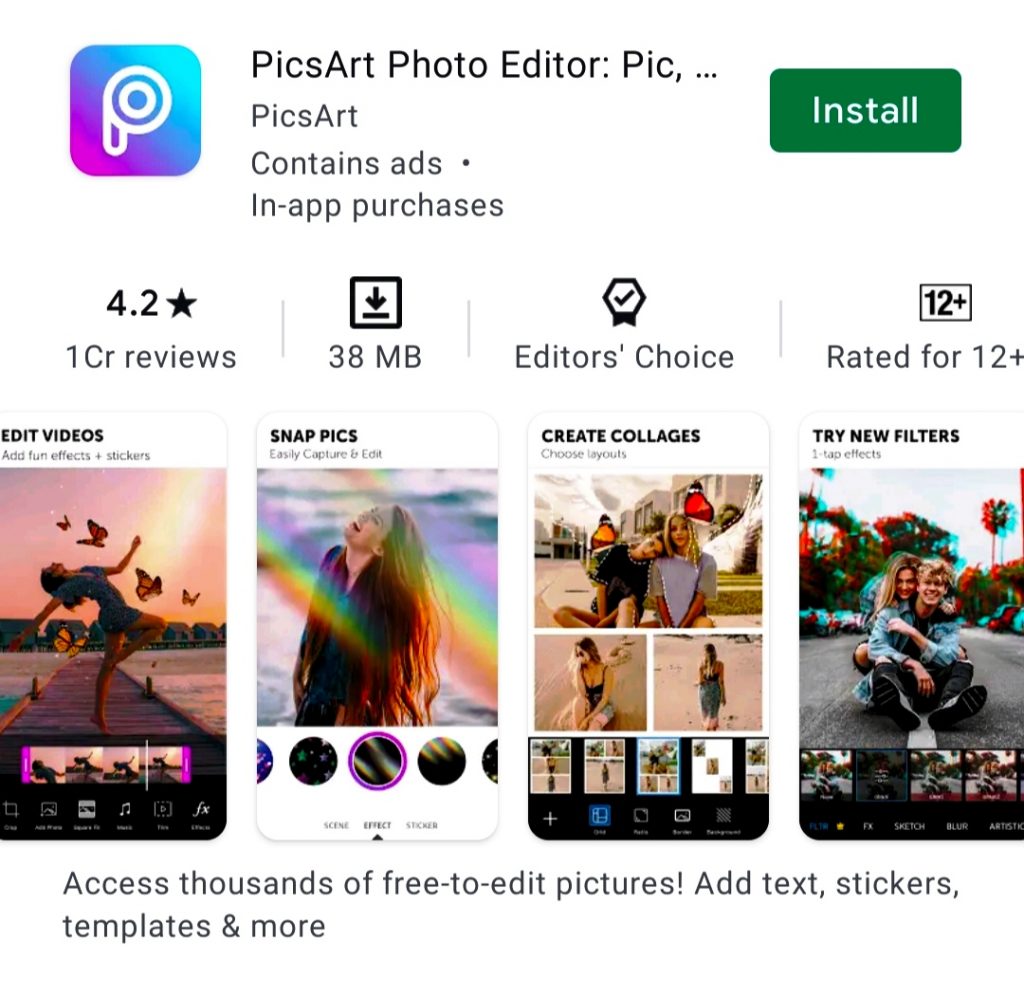 PicsArt is your go-to, all-in-one photo and video editor .It includes all the tools you need to give your content a personal flair and make it stand out.
The application also offers a simple interface for quick edits and quick sharing across multiple social networks.
Clips – iOS Users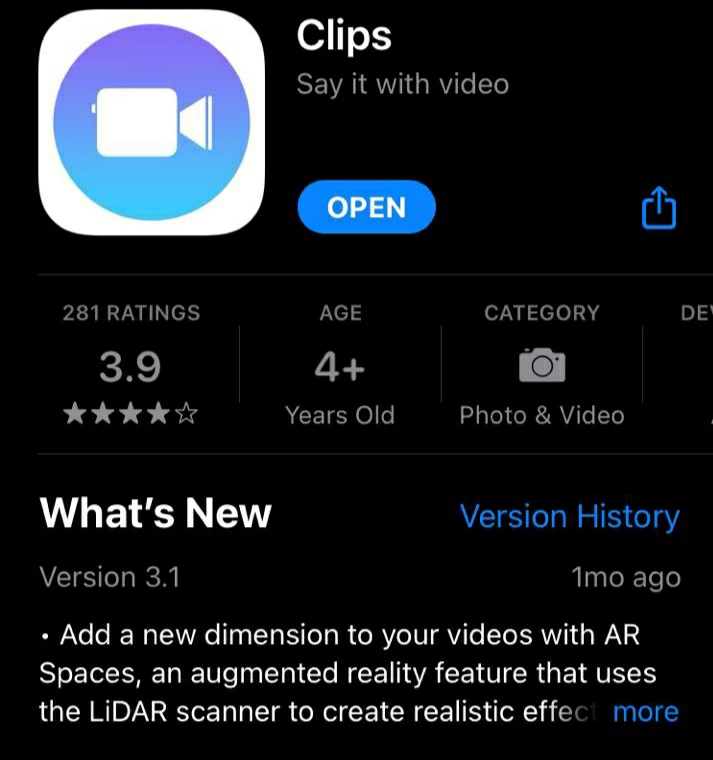 This is a video editing app for iPhone and iPad. It is a deceptively rich and complex video-editing app for iOS. With it you can quickly and cooly add video, photos, subtitles, effects, title cards, and music.You can also add Live Titles, in which the app inserts your narration in the video as on-screen text, alongside other add-ons like emoji, stickers, and music.
Prequel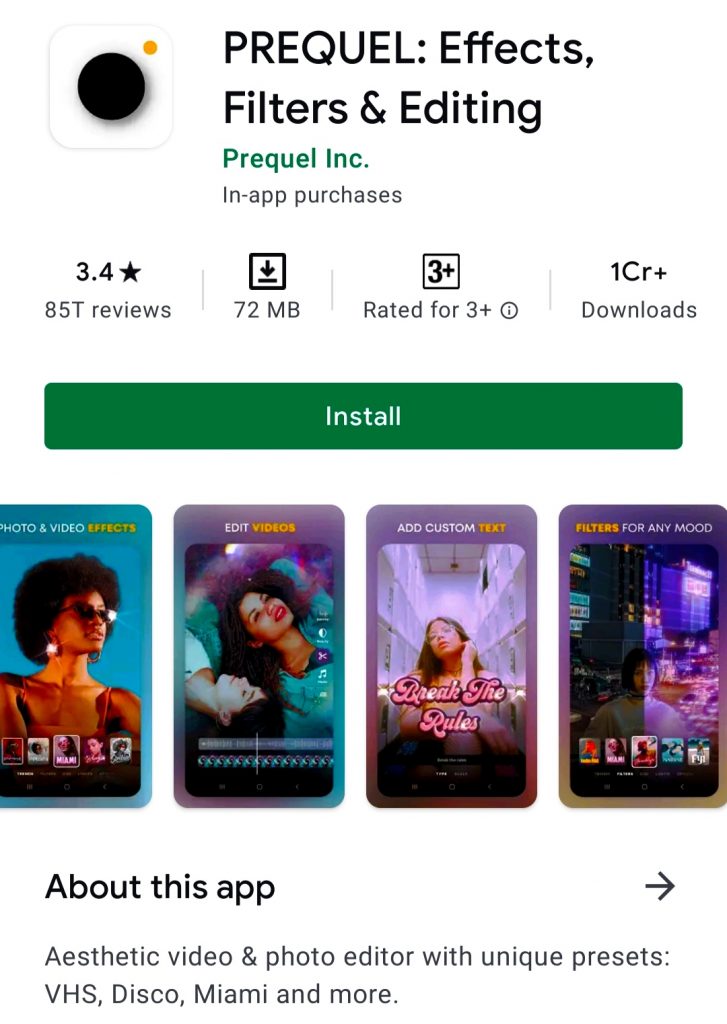 The photo editing app is available for both iOS and Android. "PREQUEL" is intended for all those who want to put the finishing touches to their Insta Story.
You can insert Huji filters and other retro edits in your videos. I personally like Huji filter since the
Foodie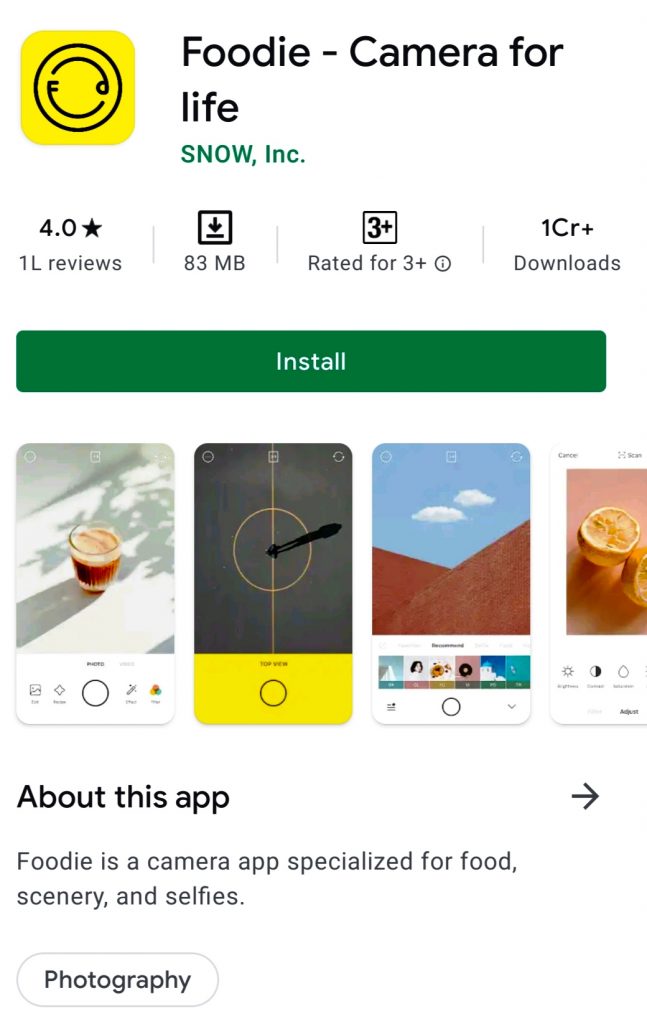 It appears to be just another Instagram accessory, available for free on the iOS and Android platforms. This camera app is the essential companion for the modern sociable. It help you to discover a fun and fast way to spice up the perfect memory of a perfect meal.You start by taking photos in the app or by importing photos from your saved image. You can apply as many filters as you desire.
InShot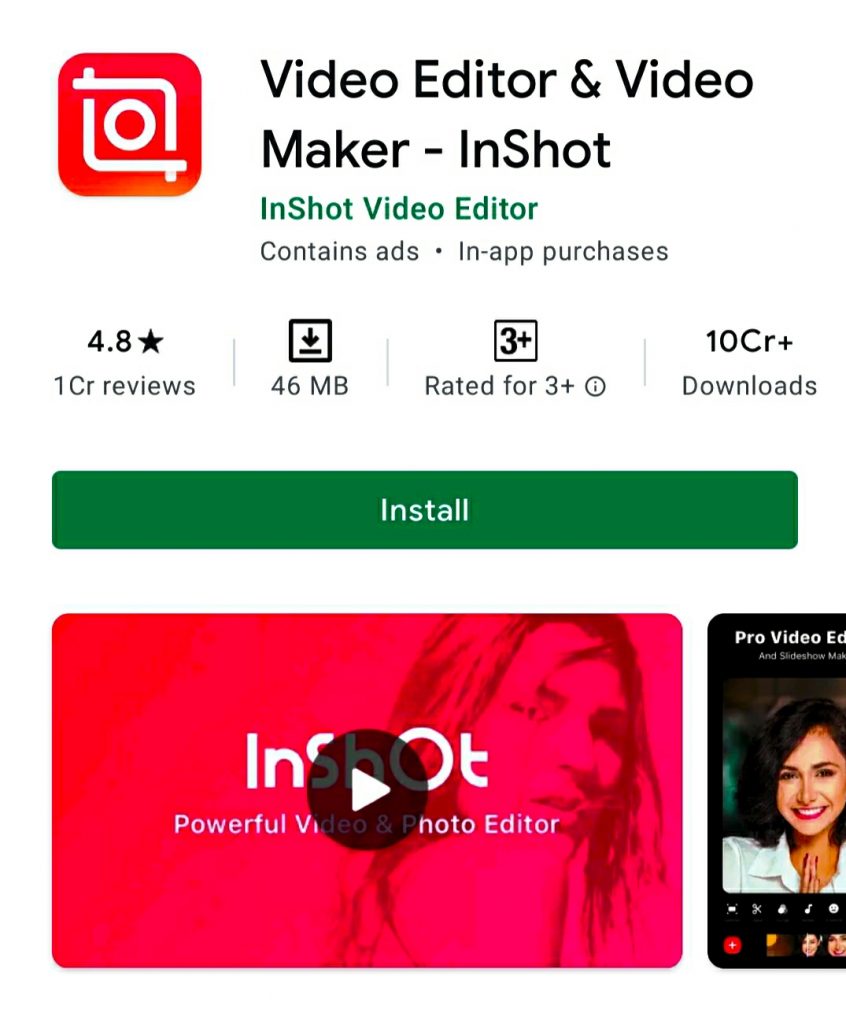 It is an editing app for videos and photos. With InShot, you can easily add music, text and emoji, make videos with cool effects and transitions. This Editor is a photo and video editing app especially designed to improve the final result for any video you want to upload to your Instagram.
It also lets you improve pictures quality, mute background noise, give white or any colour background. It lets you save images and videos in high quality.
Splice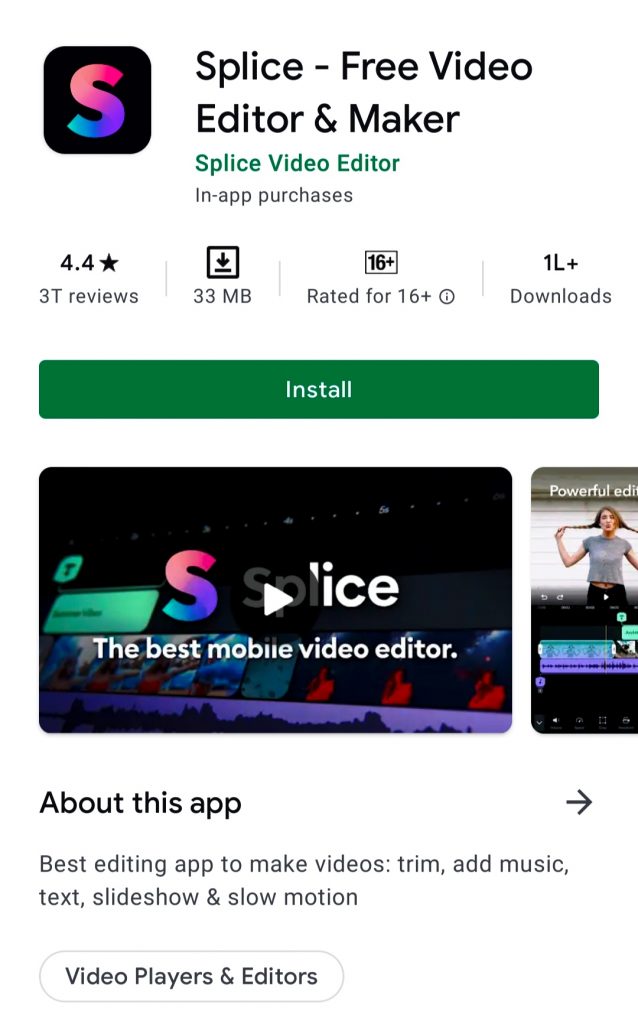 It's a highly rated app for mobile video editing, and is now available for both iOS and Android devices. With it, you can import video saved on your device and enhance it with a variety of effects and tools: It's worth noting that this app is entirely free to download and use.The app is easy to use and lets users edit HD pictures and videos into a professional quality video that's great for sharing online.
Conclusion
Hope you found this blog useful. I would love to know about tools you guys are using. I have been using few of them for my Pinterest and Instagram posts. Some of them are jackpots as they are free of cost. With such amazing features, every app has an amazing benefit . You just need to be creative enough to use them.
This is a list for Best Social Media tools to Help You Create Epic Social Media Content.
People also ask for:
Tagged:
Best content making apps for social media for Android and iOS Users.