5 Ways to Get Paid to Code Online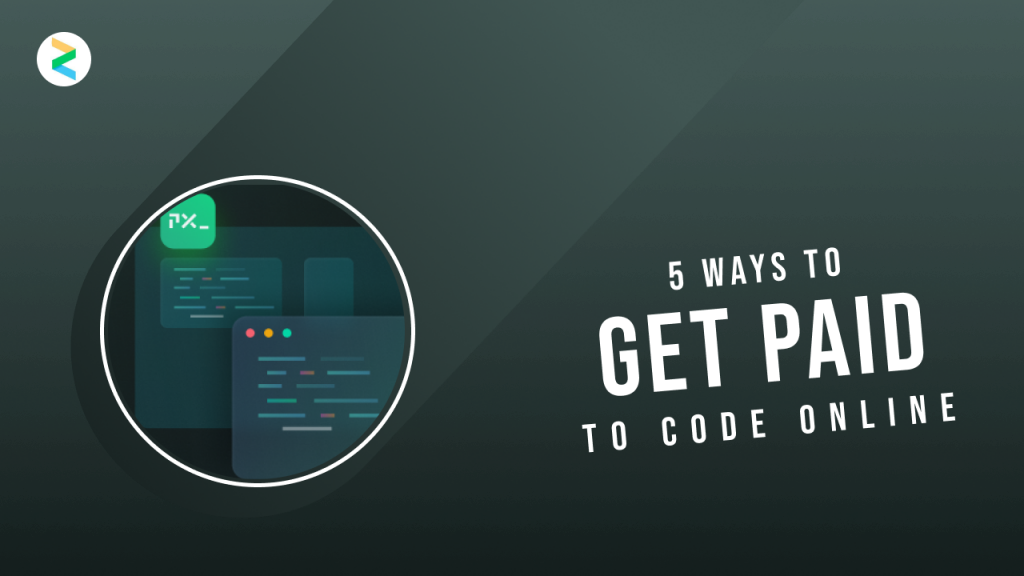 Are you a programmer and want to make money through coding with different streams of money making ideas? Then you are in the right place just scroll and read 20 important money-making streams through which you can earn lots of money with these streams . Let's get started without a further a do . Also these things 5 Ways to Get Paid to Code Online one my best article for beginners who wants to earn extra income from coding.
How to Make Money Programming
If you are a geeky person but you have to earn money through your programming skills with ( skills like : C++ , HTML , CSS , Javascript , React Js angular , and other frame work through which you can make bymkney easily by these technologies . And want to get paid online There are several online ideas through which you can earn easily without sticking to any particular income stream . Today's era is booming so fast so there are thousands of ideas out there through which you can earn money online. Thats what i am covering in the hole blog . I will tell you the 20 ways to get paid online through the different streams.
List of Proven Ways to Make Money from Coding Online
Here i will list 20 updated ways to make money online through programming skills.
1.Blogging
i know each and every programmer know the fact about how to make money through online advertisements through blogging but this is the best way I will suggest each and every programmer do in their free time so that they can interact with beginners as well as a senior developer so you can connect as much as people through blogging and also you can prefer your blog on social media so that you can earn money through it .
There are many ways to make money online .
Charging for premium content.
Earn money through affiliate link.
Earn money for teaching coding skills.
Sponsor content writing for their products.
Here is a quick tip for starting a programming blog.
Write SEO friendly content so that your post or quality content blog will reach to so many people there are quite simple techniques to follow and allow you to make a seo friendly content. SEO friendly content will acquire so many acronyms like SEO keywords and many more but don't worry about it these type of informatiin will provide so many places you can grab it in a very easy way also Seo and writing your blog on a specific keyword will help you to reach out so many people in search result. So make sure you should write seo friendly post .
Hope this post will help you to make money in an easy way through blogging.
2. Freelancing
Freelancing is my favorite way to earn money personally i prefer and suggest everyone to jump to the freelancing domain where you can earn more money than what you are earning through9 to 5 job .
Con of freelancing
Freelancing will give you the freedome to work from anywhere.
Freelancing gives you no boundation regarding 9 to 5 work culture to work for a company .
3. Start A Personal Website
A personal website is work like a TV ad that will show off your coding skills too. In which technologies you are an expert. Your website is like a mirror that can help you to reflect on your coding skills. You can show off your particular stack of technologies in which you are an expert in like if you are a frontend developer then mention you stack like HTML CSS javascript etc. Or if you are a Backend developer then you should be mentioned the backed niche.
Once you have completed your website you can launch and attract more clients and you will have more clients to offer your online service. Charging hourly rates. Or even better big projects.
you can start even a freelancing project if you are a beginner. Then fiver is the best site for those who are new to this freelancing career. Also, you already know Fiverr is an online marketplace for freelancing services based in Israel. Fiverr is a website that allows you to post and apply for tiny one-time projects, or gigs, online. The platform's job listings include a wide range of topics, from "get a well-designed business card" to "assistance with HTML, JavaScript, CSS, and jQuery."
5. Live Coding and Streaming
when streamers are live, they are frequently quite involved with their audience. They respond to questions, ask questions, and adjust what they're talking about in response to the wishes of their audience. That's great fun! We encourage giving a live broadcast a try if you've never done so before. Here are 15 great live programming channels to watch:
You'd be shocked at what you'd find. It's a terrific method to learn something new or enhance an existing ability by watching a programming live stream. To begin, you'll notice that even experienced programmers have difficulty. They aren't any different than you. They don't have any magic tricks in their sleeves. They, like you, look for solutions on the internet. They forget the semicolon, just like you do. They are in the same boat as you.
Here I will list the 8 most popular CODE STREAMING CHANNELS TO MAKE YOU A BETTER PROGRAMMER so that you upskill yourself too to do this and earn more from different platforms by doing this .
| | |
| --- | --- |
| You Channel Name | youtube Channel Link |
| Traversy Media | https://www.youtube.com/user/TechGuyWeb |
| Jason Lengstorf | https://www.twitch.tv/jlengstorf/ |
| Adam Wathan | https://www.youtube.com/channel/UCy1H38XrN7hi7wHSClfXPqQ |
| PirateSoftware | https://www.twitch.tv/piratesoftware |
| csharpfritz | https://www.twitch.tv/csharpfritz |
| Sayvi | https://www.twitch.tv/sayvi |
| rwxrob | https://www.twitch.tv/rwxrob |
| Florin Pop | https://www.youtube.com/channel/UCeU-1X402kT-JlLdAitxSMA |
| | |
These are my favorite youtube channels and I am damn sure you love it because these youtube channels will give you the real value .and these top 5 ways to get paid to code online defiantly
Conclusion
Hope you like this article ? Did you enjoy 5 Ways to Get Paid to Code Online? Let me know in the comment box. Finally, we learn to enjoy and try it on our own.
Happy Coding! ?
People are also reading: